Saturday, May 9, 2009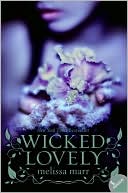 I started reading the first 70 pages of this one online and had to immediately run out and grab it. It's not vampires, it's fairies but in Marr's world there's not a whole heck of a lot of difference because her fairies are vicious!
Aislinn sees fairies. Fairies are everywhere, teasing, touching, toying with their unsuspecting human prey. Aislinn has lived her whole life as a silent witness to their secret world, a gift (or curse) that has been passed down to the women in her family.
"RULE #1- Don't ever attract their attention"
The Summer King has been searching for the girl who will become his summer queen. His chosen will either be the one fated to wear the crown or give up her mortal life and bear the curse of winter until the next girl is chosen- and the Summer King is following Aislinn.
Mortal love, evil fairies, a wicked queen, broken hearts and magic. I loved it. Marr's fairy world brought back images of twisted Froud fae and my beloved, angular, spindly Rackham fairies- beautiful and terrifying at the same time. I fell into a picture book as much as I did a story.