Wednesday, May 6, 2009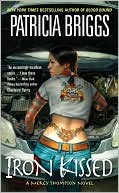 Mercy Thompson series #3
So Mercy and I were sitting around, chillin', having just gotten over a vicious vampire attack and our friend Stefan's disclosure that he felt more than just friendly towards us, prepared for a night of inner turmoil brought on by all the hawt men(ish) in our lives when our good friend Zee called us up in need of a little scent snooping for the Fae.
On the reservation built to separate the fae from human society, a series of gruesome murders leads to one unexplained human death that Zee is set up to take the fall for. To protect their own interests the Gray Lords intend to see Zee pay, regardless of his innocence and it is up to Mercy to cross all lines to save him. An actioned packed third installment complete with Mercy's hallmark ass-kicking (I helped).
Patricia Briggs is kicking some major buttocks here- though I have one issue that we'll go into when I've finished the series.
Up until now I haven't really considered the story to be dark but Mercy's dealings with the Fae in this book, I'll admit, kind of scared me. There's not much pleasant about them and the descriptions of not only their appearances, but of their natures made me really glad that I was safe under the comforter, sheltered by the glow of my trusty book light. Briggs even took it a step further by adding a very real, very terrifying element that would and should scare the hell out of any woman reading it. It was a very bold twist- uncomfortable, but it was meant to be.
I'm developing a strong attachment to Briggs and Mercy. When this book was over I was left with the familiar (depressing, horrible, awful, WONDERFUL) feeling that comes when you finish a good book but still can't pull yourself out of the story just yet. It needed a thousand more pages, then a thousand more.