Monday, May 4, 2009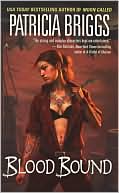 Book 2 of the Mercy Thompson series. What is it about boys and girls?? Why VAMPIRES, of course! I'm oh so happy.
I LOVE this series. Screw being a princess...I wanna be a shape-shifter-coyote-mechanic-who-is-lusted-after-by-the-sexiest-and-most-powerful-of-the-werewolves-and-now-vampires ASS KICKER. I'd be her more girlie side kick- we'd beat the hell out of the bad guys and go get pedicures after (for all our paws).
In Blood Bound Mercy and the wolf pack are hot on the trail of a rogue demon/vampire who is terrorizing Tri-Cities. Though it's something the local vampire seethe should be taking care of, the sorcerer turned vampire has proven to be more than Stefan can handle. In this second book, Brigg's shows us the inner workings of her vampire world as well as some more wolf pack politics. I'm really amazed by the depth and history she's putting into her characters. Even supporting characters are written with such depth that I was left with no doubt of their places in the story. There is a romantic element to the series, that while not prominent (so far) is intriguing because of why Mercy won't let it happen.
I stayed up until 2 in the morning devouring this book and at the climatic moment in the story, the dying battery SCREECH alarm on the smoke detector started sounding. So I balanced on a chair, book in hand, still reading and beat the hell out of the smoke alarm with a broom handle until it stopped. Then I finished my book while the sad little half plugged-in battery dangled defectively from the ceiling.
It wasn't exactly vampire slaying, but still, I think Mercy would be proud.