Tuesday, May 5, 2009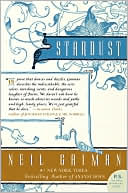 I wouldn't really call what I do here reviewing books. That implies a bit more structure than I ever intend to have in regards to what I read. I merely wanted a place to jot down my thoughts about the stories I'm enjoying (or not). Mostly it's just "What I Think." which works for most people since (unless you're kidding yourself) it's what matters. But I'm rather at odds on how to best put into words my feelings on this book since I in no way wish to add to or take away from anything you yourself feel about it.
It is a fairytale, and it goes as fairytales go. It invokes the same sense of wonderment and longing for something quite beyond the ordinary that any of our childhood tales did. Gaiman prompts us to remember magic which, though it may not be as apparent in the mundane day to day, remembers us.
You need to believe in things that aren't true. How else can they become?"
— Terry Pratchett (Hogfather)