Wednesday, April 15, 2009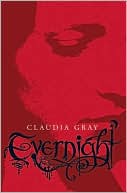 Wow oh wow. Boy I didn't see that coming (and neither did you).
This was a wonderful book!
After reading
Need
I was dead set (ha ha) on not reading anymore YA or vampire fiction and I actually took this book back to Barnes and Noble and exchanged it for
The Frog King
by Adam Davies. Twenty minutes after the exchange a friend called to tell me that I HAD to read this book. I wasn't really all that keen on having to plow through another Twilight wannabe but since I was able to borrow this one, I couldn't turn down a free read.
The professors Olivier have accepted teaching positions at Evernight Academy, a rather antiquated, severe boarding school in a gloomy gothic castle, complete with towers and gargoyles. With them comes their 16 year old daughter Bianca who in typical teenage fashion rebels against the move, the school, the faculty, the student body, the gargoyles etc…..until she meets Lucas. Lucas is cool, above it all, impulsive, mysterious- yeah, I'd have dated him against all advice too. Lucas loathes Evernight and openly antagonizes the more elite, "in" crowd and of course wants to protect young innocent Bianca from their influence. You can see where this is going….and then…very very suddenly…YOU CAN'T.
Jaw-dropping-set-the-book-down-did-that-just-happen-ness!!!
Go get it. Quick read. Good time had by all…and BONUS there's a sequel.