Sunday, March 21, 2010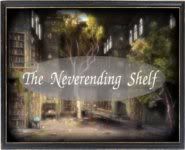 Have you ever visited Kate at
The Neverending Shelf
? She has an absolutely brilliant book blog and as a special added bonus she also gives excellent blog design tips. Pretty much everything you've ever wanted to do to your blog, she tells you how in her easy, straight forward how-tos.
Sandy at
Pirate Penguin Reads
referred me to The Neverending Shelf and I really appreciate it.
So if my blog is starting to actually look decent it is entirely due to Miz Kate's wonderful tutorials and I'd like to thank her for existing :)